Fish Report
Krill, Crazy Currents and Big Dorado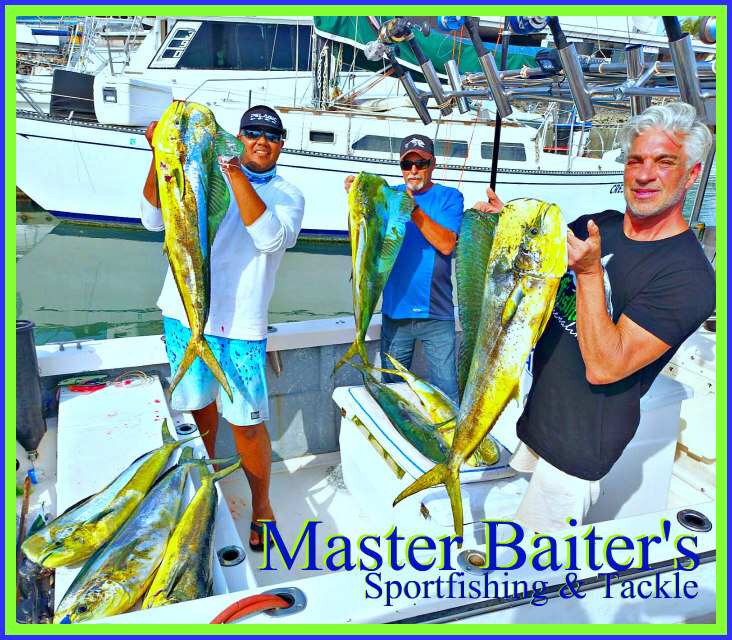 by Stan
1-26-2023
011 52 322 209-1128
Website

This year we have the unfortunate luck to deal with our normal seasonal transition. Throw in La Nina and now crazy currents from storms to the north and to the west, included in the mix, fluctuating water temperatures and Clean Green water. All that is in the sauce we call world class fishing in Puerto Vallarta to Punta Mita. Has it been frustrating? A little, but there is a strong upside as well. Dorado have been mostly abundant in between Corbetena and El Banco. Find floating debris or a log anywhere from El Morro to Punta Nayarit and you've found larger Dorado who are attacking baits. For now it's a real mixed bag that's hard to figure out. One thing that isn't confusing is when you come in after a ten hour fishing trip with a fish box full of Dorado.
Let's face it, fishing is unpredictable and even more so with the unusual conditions we have to deal with. Corbetena right now may be a place to avoid. After two weeks of cold water and too many Jack Crevalles taking any bait in the water, it's a frustration dream. Your chances of catching any other species in the area is pretty much being drowned out. There are plenty of smaller Tuna, but you won't catch not one for this frustrating reason. Looking for Jack Crevalles to 50 lbs, you'll find them. But nobody goes to Corbetena to catch J.C.'s. If you want to give it all a name, La Nina is a good place to start. As the whole area is still struggling with less than perfect blue water, but there is still plenty of action to be found. For those targeting Dorado, then you're in luck. As we get the "second" fishing season, we find a second wind for larger Dorado about 10 to 15 miles or more north of Corbetena rock. Those with the time to push water searching for these 30 lb plus sized Golden fish! To be honest you probably won't find much else in this area I call "Mid-Point". Half way between El Banco and Corbetena, this area has seen more than its share of tournament winning fish over the years. With the high cost of fuel, this area goes mostly ignored but shouldn't be. There are some striped Marlin roaming the area, but not many. With some luck you'll run into some Spinner Dolphin and maybe you'll find some Spinner Dolphin which normally run with Football Tuna. If this gets you excited, you better get out there ASAP before they've decided to head south for the winter.  If for some reason you find yourself close to the "high spots" at El Banco there have been a few Spinner Dolphin. Normally again, this means Football Tuna, but for now it's about a 50 / 50 chance. You could still find Striped Marlin and closer in a possible Sailfish. For now this entire area is your best bang for your fishing dollar. Feeling lucky?
From El Morro to Punta Nayarit the water has been mostly the Clean Green. Colder water for sure, but find some floating debris, a dead Whale or maybe even a floating log and you've put yourself in the best possible position to boat Dorado! North of Sayulita has seen "some" Rooster fish near the reefs in the 30 to 40 lb range. And with some luck you may run into the rogue Sailfish. That's pretty much the story here now. Jack Crevalles, Bonita and Skip Jack Tuna are also in the area if you are looking for smaller game fish.
Inside the bay we're much the same as last week. If you're in the area of Los Arcos, the water is mostly the clean green water. Sierra Mackerels, Bonito, Jack Crevalles and possible Dorado! With the cooler water we've got bass in the "holes", possible Grouper and Snapper should be coming in soon.  For now your best bet in the bay is a six hour trip, this will allow you to cruise the area and find the hot spots. But be warned, there is so much Krill in the bay, the water can be red from this tiny Whale food and it's best to try and keep your distance from this "red water".
The bite this week is the same, but for now there is some great action before the bite on a few of these species. Rooster fish in particular, so make sure you don't leave the dock later than 07:00. Water temperatures are all over the place and are anywhere between 72 degrees and 76. With the swirling strange currents, look for the warmer water to give yourself the best chance of finding fish.  Remember Master Baiter's is freezing client's fish as part of our full fishing services. Non-clients are welcome too, but you'll have to pay a bit.
Thanks for your continued support and until next week, don't forget to kiss your fish!