Fish Report
La Paz Fishing Report / July 28th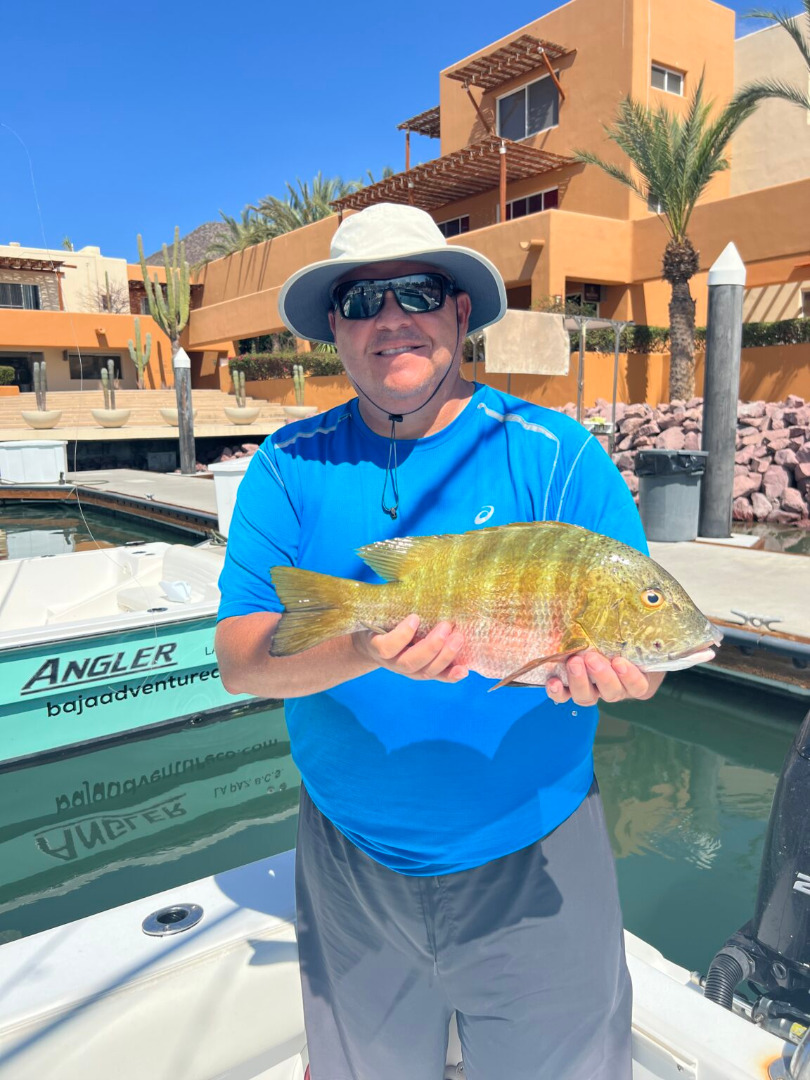 by Baja Adventure Company
8-18-2023
(619) 955-6003
Website

There's no question we are experiencing much like a big part of the US. an extreme heat. Just to make things a little more uncomfortable we have tropical storms in the pacific contributing some humidity making the air extremely steamy. Fortunately we have the summer prevailing winds from the south west making thing much more tolerable if your out on the water.
The water temperature is 84 degrees which is actually a perfect temp for most pelagic species. Hopefully we won't get too much warmer although south of us we have reports around East cape of water temperature already pushing 90 degrees. Those numbers are much better for cooking chicken then for fishing.
Bait supplies are still solid with both sardines and Mackerel for sale directly in line to the fishing grounds.
About fish
Our main targeted species currently is Dorado, Marlin and Tuna, although the Tuna are hit and miss.
This year has been one of the best seasons for big bull Dorado I have seen in a decade. Bulls north of 40 lbs are common with the smaller fish still pushing in the 20's. Striped Marlin are offshore a bit further around Punta Norte and El Charro seamounts. They seem to be in pods of 3-5 fish with multiple hook ups more common than not.
Trolling small to med size lures is working best for both species with lighter colors being more productive.
For the most part the Tuna are 15-30 miles offshore under the porpoise. If indeed you are lucky enough to find them the bite has been wide open with both cedar plugs and sardines. Most of Tuna have been averaging around 25lbs. Inshore around Espíritu Santos island there still is quite the variety of fish including Dorado, Pargo Mulato, Cabrilla and Cubera snapper. These are all great eating fish and it's nice to round out your catch.
The crowds are starting to lighten up as summer vacation is coming to an end.
It's amazing how fast the summer goes. As September nears our chance of Hurricanes increase. If the water temperature stabilizes it's a great month to fish. It's just hard to plan trips in advance due to increased storm activity.
As I mentioned last week in the beginning of October we will be moving part of our fleet to Mag bay. I know I probably sound like a broken record but this is a trip of a lifetime. The accommodations are our 40' Riviera and our 51' Catamaran. Both of these boats are anchored just a few miles from some of the most prolific fishing grounds anywhere on the Baja. Most trips are 3-5 days long having most of the fishing grounds all to yourself.
Summing things up, fishing is good. The water temperature will determine the rest of the summer season. And hopefully we are spared from any Hurricane activity.
Be kind
Keep the faith
Scotto